Poor Man's Capers
How to make gourmet capers from nasturtium seed pods
By Marion Owen, Fearless Weeder for PlanTea, Inc. and
Co-author of Chicken Soup for the Gardener's Soul
FEATURE ARTICLE: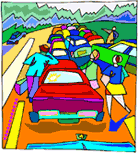 Tom Hanks' "Power of Four" solution

More good stuff:
Who is Marion Owen?

FAQs about PlanTea
Search Marion's articles, tips and recipes

Why grow organic?

News and press releases

Read love letters

How to link to this site

Need a speaker?

How to contact Marion

Visiting Alaska?
Come to Kodiak Island!

Go to home page


Marion's UpBeet Gardener
Newsletter has been
replaced by Marion's blog
which you can find at:
www.marionowen.wordpress.com



Nasturtium flowers and seed pods
have a nutty-pepper flavor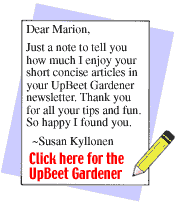 Nasturtiums are well known for their edible flowers and "grow anywhere" reputation. But did you know that the seed pods are edible, too? I call them Poor Man's Capers. Now you can enjoy a continuous supply of capers by following this simple pickle recipe:
Poor Man's Capers
Real capers are pickled buds from the caper bush, a perennial shrub that thrives in the Mediterranean region. Capers are a gourmet condiment and these pickled nasturtium seeds are an impressive substitute.

After the blossom falls off, pick the half-ripened (still green) nasturtium seed pods. Continue picking as long as the seed crop continues. Drop them in a boiled and cooled mixture of:

1 quart white wine vinegar
2 teaspoons pickling salt
1 medium onion, thinly sliced
1/2 lemon, thinly sliced
1 teaspoon pickling spice
1 clove garlic, smashed
4 to 6 peppercorns
1/2 teaspoon celery seed

Keep the mixture refrigerated and use the nasturtium pickles in sauces, dips, casseroles, soups, stews and as edible decorations. For an added attraction, freeze 2 or 3 nasturtium capers in ice cube trays and use them to dress up your next glass of V-8 or favorite ale.