Layered Hummus Dip
Topped with cucumbers, radishes and feta cheese, this quick 'n easy recipe is a year-round hit!
By Marion Owen, Fearless Weeder for PlanTea, Inc. and
Co-author of Chicken Soup for the Gardener's Soul
FEATURE ARTICLE: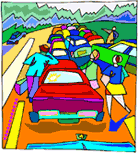 Tom Hanks' "Power of Four" solution

More good stuff:
Who is Marion Owen?

FAQs about PlanTea
Search Marion's articles, tips and recipes

Why grow organic?

News and press releases

Read love letters

How to link to this site

Need a speaker?

How to contact Marion

Visiting Alaska?
Come to Kodiak Island!

Go to home page


Marion's UpBeet Gardener
Newsletter has been
replaced by Marion's blog
which you can find at:
www.marionowen.wordpress.com

You're standing in the kitchen, wondering what to serve your guests at tonight's dinner. You'd like to make something different, but you don't have a lot of time. What can you serve that's that's quick, tasty, and healthy...?
Ta da!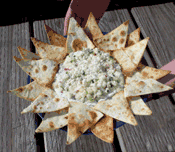 Layered Hummus Dip

Topped with chopped cucumbers, radishes and feta cheese, this appetizer is easy to make and always generates compliments. I serve this dip often to our Galley Gourmet dinner cruise guests. One bite, and they are pleasantly surprised. (And, you don't have to tell your guests that it's good for them!)

2 cups hummus (garbanzo-based spread available ready-made, or make your own with recipe below)
1/2 cup plain, unflavored yogurt
2 tablespoons fresh mint, chopped
1/2 cup cucumber, diced
1/3 cup thinly-sliced red radish or diced red bell pepper
1/4 cup crumbled feta cheese
Spread hummus onto the center of a round plate or platter, making a 6 to 8-inch diameter circle. Stir yogurt and mint together. Spread evenly over hummus. Sprinkle cucumber, radish and feta cheese over yogurt. Garnish with mint sprigs and arrange chips or triangles made from flour tortillas.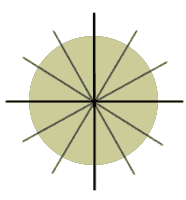 To make your own chips: Preheat oven to broil 450 degrees. Cut a stack of tortillas into triangle shapes as shown at right. Place on a cookie sheet in a single layer. Spray lightly with cooking spray. Broil for 3 minutes, or until slightly brown (watch carefully!) Remove from oven. Flip pieces over and spray again. Broil for another 2 to 3 minutes. Watch carefully so they don't over-brown. Sprinkle with salt or any seasoning of choice. Cool before serving.
A simple hummus recipe
1 can (15 oz) of garbanzo beans, drained, but reserve 1/4 cup of liquid
1/3 cup tahini (sesame seed butter/paste)
1/4 cup orange or lemon juice
1 teaspoon grated orange rind
2 cloves garlic, pressed or minced
1 green onion, chopped or 1/4 cup chopped chives
1/2 teaspoon ground cumin
1/2 teaspoon salt
Place all ingredients in a food processor or blender. Whirl until smooth, adding more orange juice or bean liquid if necessary.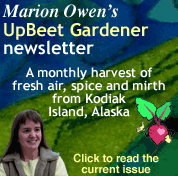 Enjoy!