FEATURE ARTICLE: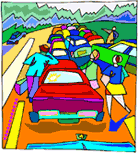 Tom Hanks' "Power of Four" solution

More good stuff:
Who is Marion Owen?

FAQs about PlanTea
Search Marion's articles, tips and recipes

Why grow organic?

News and press releases

Read love letters

How to link to this site

Need a speaker?

How to contact Marion

Visiting Alaska?
Come to Kodiak Island!

Go to home page


Marion's UpBeet Gardener
Newsletter has been
replaced by Marion's blog
which you can find at:
www.marionowen.wordpress.com


When the movie Chocolat came to our small town theater, it caught my interest, along with some chocolate lover friends of mine. We planned to make it a special event, starting with passing up the bags of movie popcorn. Instead, we'd pack our own homemade snacks--of chocolate!
The movie is about a single mother (Vianne) who happens upon a French village in the early 1950s. She dares to open a chocolate shop during Lent in a conservative Catholic community. The mayor denounces Vianne as a temptress who'll bring down the morals of the town. Instead, the chocolates awaken the residents' passions. One movie critic said it was "as pleasurable as a richly fashioned piece of elegant chocolate, and as warm as a homemade cup of cocoa."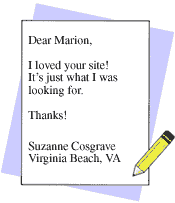 The day before the movie, I still hadn't decided what to bring. The usual chocolate cookies and bars wouldn't do. So, I decided to take a basic brownie recipe and experiement with it.
Not only did they have to taste great, they had to be nutritious. Studies show that Americans eat far too much junk food, so why not take charge in our own kitchens? In other words, healthy desserts ARE possible. I love to cook, so I approached the basic brownie challenge like Sampson facing Goliath.
First I thought to myself, what's the world's most favorite flavor?
Chocolate.
What's the least favorite flavor?
A quick poll around my neighborhood produced the answer: beets.
Put them together and you get chocolate beets. Question was, how to combine this Odd Couple of flavors? Then carrot cake came to mind. If it was possible to disguise the orange vegetable in a spice cake, surely I could hide a beet or two in a brownie recipe.
What's up with chocolate?
In the movie Chocolat, we're taken to believe that chocolate is an aphrodisiac. Incidentally, women tend to crave it more often than men. Researchers say that chocolate can produce powerful effects on a person's mood, which was really played up in the movie. The ingredients in chocolate have a chemical similar to adrenaline and a little caffeine. Together, this causes a slight raise in heart rate and blood pressure. Maybe this is what some describe as the "mental lift" we feel after eating chocolate!

There's more good news. Now there is evidence that the stearic acid in cocoa butter can help lower low density lipoproteins, or bad cholesterol. Chocolate has also been found to have antioxidant flavanoids--which are thought to help protect against heart disease. Not that we should replace broccoli with chocolate truffles, but knowing this may help reduce some of the guilt associated with an occasional chocolate dipped strawberry.
With the guilt factor diminished, my quest to make the perfect chocolate beet brownie got easier. The recipe follows below, but first let me give you a few beety facts and some growing tips...


Three beets to the wind!
What's up with beets?
We've all been told that beets are good for us. But for those who are dead-set against eating beets, that doesn't improve the taste one bit. Just ask my husband.
Beet greens contain vitamins A and C, and more iron and minerals than spinach. Beet roots are rich in potassium and contain protein, fiber, iron, calcium, phosphate, niacin, folate and vitamins A and C. They can be baked, steamed, pickled, used in soups, salads, side dishes and secretly added to chocolate brownie recipes.
If variety is the spice of life, then beets are cool. Beet cultivars come in an assortment of different colors and shapes: red, purple, gold, or white; round, oval, or cylindrical.

How to grow beets
As you can tell, it's worth it to add beets to your gardening repertoire. Even if it's just a single row. Here are some beet growing tips to help you get started:

Beets perform best in full sun, but do fine in partial shade.
Light, sandy loam permits rapid, uninterrupted growth for tender roots. Moist, fertile, well-drained soil with a neutral pH of around 6.5 is ideal.
Beet seeds are actually fruits, producing a cluster of seedlings. So you'll need to thin these when they emerge. When plants are 2 to 3 inches tall, thin again to 4 to 6 inches apart.
A tip for northern gardeners: I've had good luck sowing seeds in flats and transplant outside when the soil warms.
Keep the soil evenly moist but not soggy. Lack of moisture causes tough, stringy roots.
To harvest, pull up roots when they are 1.5 to 3 inches wide. Remove any dirt, then cut the tops off, leaving at least 1 inch of stem to prevent the roots from bleeding. Refrigerate for several weeks, or layer in a box filled with sand and store in a cool spot for up to 5 months. Freeze, can or pickle the extras.

Chocolate Beet Brownies

These brownies are rich, chewy and secretly nutritious!

1/2 cup butter (or 1/4 cup butter and 1/4 cup applesauce)
4 oz. unsweetened chocolate
4 eggs
1 cup brown sugar (packed)
1 cup applesauce
1 tsp. vanilla
1-1/2 cup unbleached white flour
1/2 tsp. salt
1/2 tsp. nutmeg
1 tsp. cinnamon
1 tsp. baking powder
1 15 oz. can beets packed in water, drained and mashed; or 1 cup cooked beets
1/2 cup finely chopped almonds
1/2 cup wheat germ

Melt butter and chocolate over low heat. Set aside to cool. In a separate bowl, beat eggs until light in color and foamy. Add sugar and vanilla and continue beating until well creamed. Stir in chocolate mixture, followed by applesauce and beets. Sift together flour, salt, spices and baking powder and stir into creamed mixture. Fold in wheat germ and almonds. Turn into greased 9x13-inch pan and bake at 350 degrees for 30 to 40 minutes. Cool before cutting into squares.

While I had fun developing the chocolate beet recipe, it's a treat to see the expression on people's faces when I tell them what's in the recipe. While watching the movie Chocolat, I couldn't see my friends' faces in the dark, but I could tell by their chuckles and giggles that Chocolate Beet Brownies were an Oscar-winning hit!