Classic PlanTea: SORRY: TEMPORARILY OUT OF STOCK


Whether you share an apartment with a houseplant or raise prize-winning tomatoes by the acre, PlanTea takes the fuss and worry out of feeding your plants. Imagine, turning the task of fertilizing into a pleasant experience. PlanTea (plant + tea) is easy to make--like brewing a cup of tea for yourself. And, it is fully tested, officially organic, and listed with the Organic Materials Review Institute (OMRI), which means PlanTea is safe to use around people and pets. Is that good or what? Each box contains 12, hand-sized tea bags and complete instructions. (Mozart CD not included!)
$10.00 per box

"Dear Marion, Thank you so much for the quick shipment and the personal touch!" -- Brenda Jones
"OH MY GOSH! Thank you SO much for PlanTea! We have been using it
on our houseplants and the results are AWESOME! They all are SO much more vivid green
and alive looking. We get compliments all the time." -- Steve Weronski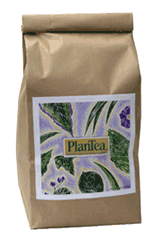 Bulk PlanTea: TEMPORARILY OUT OF STOCK


I now offer PlanTea in a bulk package. You save time and money in reduced shipping costs. And, hey, you don't have to re-order as often. What's more, the kraft paper bag reduces excess packaging that would otherwise end up in your local landfill. As always, PlanTea is ideal for indoor and outdoor plants, taking the fuss and worry out of fertilizing your plants. (Imagine, turning the task of fertilizing into a pleasant experience.) PlanTea (plant + tea) is easy to make, like brewing a cup of tea for yourself. It is fully tested, officially organic, and listed with the Organic Materials Review Institute (OMRI), which means PlanTea is totally safe to use around people and pets. Each package contains 36 tea bags of PlanTea (12 bags in three zip-lock bags) and complete instructions. (Mozart CD not included!)
$25.00 per package (You save $5.00!)

Thanks for bringing light to the world in the form of nutritious food for our plants.
I would love to get up your way [Alaska] some time. -- Lynn Thrower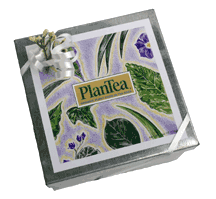 PlanTea In Re-useable Tin Box TEMPORARILY OUT OF STOCK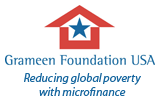 Did you ever consider giving fertilizer as a gift? Probably not, but when you hold this tin box of PlanTea in your hands, you'll think, "Wow, this is so cool." Each tin box is hand-made in the Philippines--not in sweat shops--but by individuals living in small, outlying villages. All profits are donated to the Grameen Foundation, whose goal is to reduce global poverty with microfinance. Each tin is re-useable and contains complete instructions and 12 hand-sized tea bags--ready to use on your indoor and outdoor plants. No fuss, no worry, because PlanTea (plant + tea) is easy to make (just like making a cup of tea for yourself). PlanTea is totally safe to use around people and pets. Now that's sweet.
$17.00 per tin box

"Thanks so much for my order. It was lovely!
I probably got as much enjoyment opening your parcel
as the plants will enjoy the tea!" -- Jeannie Olson, Alberta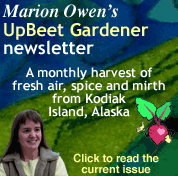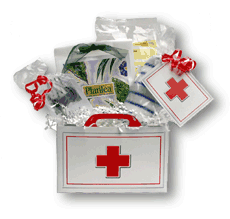 Houseplant First Aid Kit
Like us, plants can feel under the weather (Ahh-CHOO!). This all-in-one kit provides just what the plant doctor ordered (it couldn't get easier!):
+ Soil Conditioner Fork to aerate tired and crusted-over potting soils
+ 10 Sticky Traps to catch those pests once and for all
+ 12 Tea Bags of PlanTea to nourish your plants back to health (just like your mom's chicken soup!) PlanTea is a dried, organic fertilizer sealed in hand-sized tea bags. Easy to use for all indoor and outdoor plants. Kid and pet-safe.
+ Microfiber Cleaning Cloth to wipe dust, grime and oil off the leaves and bring back the shine
+ EcoSpout kit for converting plastic bottles and milk jugs into watering cans, funnels and handy spouts for watering and feeding your plants.

> > > This special kit will solve all your gift problems for the green thumb and the houseplant impaired! Complete instructions included. A wonderful gift, each kit comes with a matching note card, is carefully wrapped, topped with a bow and packed for shipping.
$30.00 per kit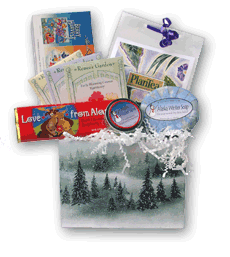 "Cure the Winter Blues" Kit: Hey, winter's happening somewhere
Savor chocolate and warm tea; dream of spring with packets of seeds, soothe your dry skin with special balm and soap from Alaska, nourish your plants with PlanTea. For people and plants. What could be sweeter? In each kit you get:
+ Alaska Winter Soap: This moisturizing soap combats the effects of dry weather on your skin. Handmade in Alaska.
+ Alaska Winter Salve softens and moisurizes dry elbows, cracked heels and rough cuticles; provides year-round relief. Handmade in Alaska.
+ 12 Tea Bags of PlanTea to nourish your plants through the winter and all year. Easy to use for all indoor and outdoor plants. Kid and pet-safe.
+ "Love from Alaska" chocolate bar: Dark chocolate with raspberry cream center. Warms you up from the inside out.
+ Seeds for Spring Planting: What better way to chase away the chill than to plan your spring garden, starting with packets of flower and veggie seeds?
+ Herbal teas from Alaska: Berry Harvest, Midnight Sun and Arctic Mint. Ah, there's nothing like a cup of hot tea to brighten your outlook on life.

> > > A wonderful gift, each kit comes with a matching note card, is carefully wrapped, topped with a bow and packed for shipping.
$35.00 per kit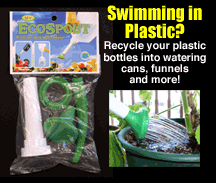 EcoSpout Recycle Your Plastic Bottles!


We have a problem: Plastic bottles, jugs and containers are filling up our landfills at an alarming rate. The EcoSpout provides a great opportunity to reduce, reuse and recycle by converting your plastic containers into watering cans, funnels - you name it. Need a container/watering can for PlanTea? Just attach the sprinkler head or pour spout onto a water bottle or milk jug. It's easy!
$9.00 per set
"I just discovered your PlanTea site and blog yesterday and
I am enjoying them very much. Thank you again for your informative site
and the POSITIVE upbeat emphasis." -- Patsy King
Handmade Soaps from Alaska (For people, and pets, too!)
As you go through the simple act of washing your hands and body, it's nice to take time to refresh your senses with a fragrant, handmade soap. And these beautiful, one-of-a-kind soaps are handmade by Denali Dreams in Anchorage, Alaska. Produced in small batches using natural, plant-based oils to ensure the finest quality these mild soaps produce a nice rich lather. Herbs and spices add texture and color, and pure essential oils are blended for a wonderful fragrant aroma.

Arctic Breeze Soap: Ginger-lime


A wonderful blend of ginger and lime, this soap is cool as the breeze that drifts off the Arctic Ocean. You'll love how it feels on a warm afternoon or after a long day at the office. 3.5 oz. bar.
$6.00 each

Borealis Buzz Off Soap: Repel bugs once and for all


Alaskans know about bugs: If you stand still too long, the mosquitoes carry you away! This all natural soap is infused with bug-repelling essential oils of cedarwood, rosemary, citronella and pennyroyal to give added protection from the buggy outdoors. 3.5 oz bar.
$6.00 each

Midnight Sun Gardener's Soap Makes cleaning up feel like heaven
With Midnight Sun Gardener's soap, cleaning up after weeding is like heaven. Named after the midnight sun that allows Alaskans to cultivate (and weed) long into the night, this soap contains finely ground pumice to scrub away dirt and grit. Scented with rosemary, lemon, and mint. Hmmm, nice. Add it to a gift basket for your favorite gardener. 3.5 oz bar.
$6.00 each
Hello Marion! I just wanted to let you know that my package arrived safe and sound.
I haven't had a chance to see the results from the PlanTea but the soap I ordered is heavenly.
Thank you so much. I'm really glad I found my way to your website, Janice

Alaska HandyMan Soap: The do it yourself clean-up in a bar


In this soap, you'll find every kind of ingredient to scrub away dirt and grime that a do-it-yourselfer might come into contact with. The Alaska HandyMan soap helps you clean up in a jiffy! Plus, you'll enjoy its refreshing peppermint and spearmint scent. 3.5 oz. bar.
$6.00 each

Alaska Winter Soap: Year-round relief for dry skin


Scented with essential oils of lavender, lemongrass and sage, this is a great soap for year round dry skin relief. Made in Alaska by folks who know about dry, chapped skin! Using a rich combination of olive and castor oils, this soap is blended with finely ground oats along with neem oil to naturally soothe your skin. 3.5 oz bar.
$6.00 each

Forget-Me-Not Lavender Soap: Lavender and oatmeal
This lavender-oatmeal soap is named after the Alaska state flower. Made from pure essential oils, this lovely and fragrant soap is quite popular. 3.5 oz bar.
$6.00 each

Kodiak Brown Soap: Soft scent of cedar wood and patchouli
Kodiak Brown Soap is a soft-scented cedar wood patchouli soap, an earthy soap named after the famous grizzly bear that lives and roams on Kodiak Island. 3.5 oz bar.
$6.00 each

Dog Wash Soap: Very popular -- WOOF!
Dogs get into all kinds of dirt and this specially-formulated dog shampoo is soothing to dry itchy skin. Plus, it is a natural bug repellent. Scented with the pure essential oils of peppermint, wintergreen and cedar wood, this rich lathering shampoo will leave your dog's coat shiny clean and smelling fresh. Which means, you will smell good, too! 3.5 oz bar.
$6.00 each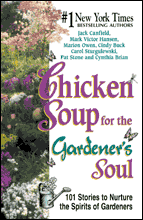 Chicken Soup for the Gardener's Soul: A nice, personalized, year-round gift
Autographed by co-author Marion Owen
Every nightstand and coffee table deserves a copy of this timeless book. It will make you laugh, cry, giggle and believe in the goodness of life. Now you can have an autographed copy sent to you, your best friend or a family member. This is a special offer from Marion Owen, co-author of the New York Times bestseller, Chicken Soup for the Gardener's Soul. To read sample stories from the book, click here. (Please tell me who to endorse the book to by sending me an email).
$16.00 each
"Marion, I LOVE the PlanTea I got from you last year, and can't wait to try the soil blocker!"
Cheers, Andrea C., Cedar Rapids, Iowa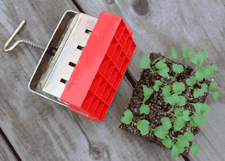 Soil Blocker: Imported from England -- if you start seeds, you need this tool! SOLD OUT! More available in December-ish.
When you see how healthy your seedlings are when they are grown in soil cubes, you'll be hooked! Not only are your seedlings healthier, they are easier to handle. No more tangled roots or transplant shock! It works like a cookie cutter, punching out a 'block' of 20, 3/4-inch soil cubes at a time. Gardeners and greenhouse operators breathe a sigh of relief when they use a soil blocker. Made in England of brass and sturdy plastic, it will last you a lifetime. Instructions included. (For online instructions click here.) PSST! What's the BEST combination for starting seeds? PlanTea + soil cuber! $26.00 Each
"The soil cuber saves you from fooling around with pots
and tearing up roots. I love it." --Gary Mynatt, Henderson, NV

"Garden By the Moon" Almanac: 2008 ISSUE IS DUE IN DECEMBER. 2007 IS OUT OF STOCK
What if I told you that mowing your lawn on certain days would mean you could mow less often? It's true! The moon influences more than ocean water (tides). This handy reference gives you the best dates for sowing seeds, pruning, tending houseplants, transplanting, fertilizing and more. Dates are included for watering, composting, harvesting, yes, even when to mow the lawn to slow growth! There is a wealth of information in the Garden Almanac. May the force be with you!
$2.50 each
"Peas" Bumper Sticker: St. Francis would be pleased
Declare your faith in gardening and in life by displaying this inspiring bumper sticker which reads, "Lord, make me an instrument of Your peas." Inspired by the prayer of St. Francis of Assisi, this bumper sticker measures a polite 2.75 x 5 inches, which means it doesn't preach and yell, it just encourages us to seek peace. Peas on earth! Get one free with each order over $10.00, or...
$5.00 for 3 bumper stickers
"Dear Marion, I received the order yesterday. I just want to tell you that I love the way your business does business. I really appreciated your message about the pitcher, as well as the personal message enclosed with the order. Thank you so much for everything. I'm anxious to use the products. I've been to Alaska on a cruise, and I thought it was the most beautiful place on earth. God bless you."--Donna Cox, Branson, MO
"I have been using PlanTea for a couple of months and I love it. My plants (indoors and out) have never looked so good and bloomed so well. I was so impressed that I have been sharing our PlanTea with co-workers. Thank you for such a wonderful product." Dolores F., PA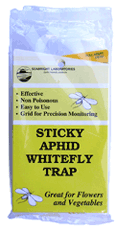 Sticky Traps: Be a hero and get rid of pests once and for all!
Are the plants in your home, office or greenhouse buzzing with pests? Yellow sticky traps provide a safe way to trap aphids, thrips, fungus gnats, whiteflies and more. Ideal for flower and vegetable gardens, window boxes, greenhouses--indoors and out. Hang with supplied twist-tie from a branch or set it on top of the soil. Each 4x6-inch trap pulls apart to make 2 traps. Complete instructions included. To see how effective they are, check out this photo. (Warning: This photo is not for the squeamish!) After you use them once, you'll be glad you've got them!
$7.00 per set of 10 sticky traps (5 pairs)
The Kodiak Daily Mirror has now caught 308 pests, as of the last count, on
one set of your sticky traps. Not only are they helping the pest problem
tremendously, they are a fabulous conversation piece. Everyone who comes in
my office is absolutely amazed. Count me in as a lifetime user of this product.
-- Lynn Devlin, Advertising Manager
Kodiak Daily Mirror (Kodiak, Alaska's daily newspaper)


Ground Quartz: One sprinkle is all it takes!
Ground quartz is made of silica, the most prominent mineral on the planet. It increases the strength of plant cells (much like calcium works on our bones) which allows for greater elasticity and tensile strength of stems and leaves. Sprinkle this ground quartz powder directly onto the soil once a year, preferably at the beginning of the growing season. Especially helpful for indoor and container plants. Use about 1/4 teaspoon per 4-inch pot. Each packet contains 7 applications.
$3.00 per packet