FEATURE ARTICLE: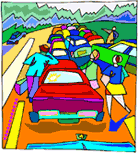 Tom Hanks' "Power of Four" solution

More good stuff:
Who is Marion Owen?

FAQs about PlanTea
Search Marion's articles, tips and recipes

Why grow organic?

News and press releases

Read love letters

How to link to this site

Need a speaker?

How to contact Marion

Visiting Alaska?
Come to Kodiak Island!

Go to home page


Marion's UpBeet Gardener
Newsletter has been
replaced by Marion's blog
which you can find at:
www.marionowen.wordpress.com

Greetings from Kodiak, Alaska. The fastest way to improvement is through feedback from you. I honestly want to know how we're doing. For example, what do you think of our product selection? How do you like the feel and functionality of this website? How about the UpBeet Gardener newsletter?
If there's something that we're doing well--or could do better--I'd like to hear about it. Please drop me a message at marion@plantea.com by calling 1-800-253-6331 (toll free in the U.S. and Canada). Our office hours are 9 to 5 Pacific time. Or you can mail a note to:
PlanTea, Inc.
PO Box 1980
Kodiak, AK 99615
I hope to hear from you soon!
Marion Owen
Fearless Weeder, PlanTea, Inc.