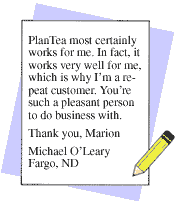 Plants, like pets, deserve the best of care. Does PlanTea really work? You bet. But just so you don't think I'm making all this up, I'll let customers speak their mind. For example:
Hi Marion,

Just wanted to let you know that I am totally amazed at the difference in my hydrangea plant with just one watering with PlanTea. I can't believe the change. The plant was nearly gone, only some leaf buds forming, but they wouldn't open, just dry up. Now one of the leaf buds is opening and this has to be the result of using PlanTea. A wonderful tonic for my plants. Thank you,

--Diane Carlson, Dawson Bay, Manitoba, Canada
Good ole customer service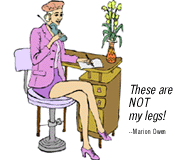 Hello there! I received the PlanTea quite promptly; thank you! I brewed up my first batch and I'm trying it out; I must say I am very pleased with the product. No bad smells, and I swear my plants seemed to perk up with the first application! I also like the packaging; it projects the kind of image I am looking for.
-- Carol A. Fuhr, CAF Consulting, Florissant, MO
Now to those great general comments
I'm in love with this stuff!
--D.R., Anchorage, AK
PlanTea combines the ceremony of making and taking tea with the process of gardening--it has that quality of sacredness.
--Better Homes and Gardens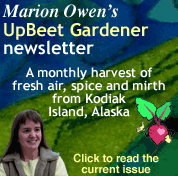 PlanTea is terrific. My plants appreciate their teas!
--J.P., Carmel Valley, CA
PlanTea is like Lorenzo's Oil!
--J.S., Bridgeville, PA
I used my first PlanTea kit yesterday and was very, very pleased. Such a sweet bag of goodies!
--Karen Borak
My cactus plants LOVE PlanTea!
--J.D., Sacramento, CA

PlanTea is a great and convenient way to feed plants.
--M. D., Gaeta, Italy
PlanTea is wonderful. My plants are really happy and they look magnificent!
--S.C., Akron, OH
From folks who prefer the great indoors. . .
It's the best thing I've every used. My African violets just love PlanTea.
-- Mary Lynch, Geneve, NY
For the first time in 15 years my Christmas cactus bloomed twice in the same year!
--Gordon Studebaker, Walnut Creek, CA
Let-tuce tell you how much we love using PlanTea in our hydroponic gardens. Our basil went ballistic and our strawberries drank it up!
--Horticulturist at Hydrofarm, San Rafael, CA
PlanTea is really helping our wheat grass. It grows taller, stays greener longer, and looks better since we've been using PlanTea.
--T. L., owner, The Enzyme Express, a juice bar in Anchorage, AK
You wouldn't BELIEVE my ferns!
--A.S., New York, NY
I love my garden, and I've used everything -- Schultz, Miracle Gro, you name it -- but they really don't do the trick as well as PlanTea.
--S.M., San Francisco, CA
From those do-it-yourselfer types
The year that I used your Plantea, I harvested over 400 tomatoes from two plants! In years when I didn't have your Plantea, I usually get, maybe 200 from 3 or 4 plants.
--Henry Lariviere, Washington, DC
This year's seedlings are the healthiest ever!
--K.O., Missoula, MT
- - - - - - - - - - - - - - - - - - - -
Growing your own seedlings and bedding plants is easy. Click here for a step-by-step guide.
- - - - - - - - - - - - - - - - - - - -

They like PlanTea's organic-ness
PlanTea is simply the most effective plant food I've found. It is so satisfying, having an easy-to-use product that is 100% naturally derived and organic."
--Renee Shepherd, noted garden writer and owner of Renee's Garden
Young people are interested in organics and ecology stuff, but so are people my age.
--E.R., Flushing, MI, 63 years young
I have lots of houseplants, but I couldn't find anything for houseplants that wasn't chemical and wouldn't bother my allergies. This sounds great.
--D.L., Washington, D.C.
Great idea! Sometimes organic gardeners are hesitant to use kelp, fish meal and so on because if you spill it, it smells up the place. PlanTea doesn't do that.
--L.B., Lessburg, VA
Great idea! I like to use organics and I haven't found anything like this.
--I.R., Silver Spring, MD
Thank you for all you're doing for the earth and for the connections you are facilitating.
--J. M., Homer, AK
PlanTea to the rescue!

Thank you. My sick houseplants perked up immediately with PlanTea!
--N.H., Germany
PlanTea helped the plants survive when we relocated them. Here is my order for more.
--K.G., conservatory director, St. Paul, MN
I noticed an immediate improvement in my plants.
--B.C., Sacramento, CA
With one application, my hibiscus began to grow and bloom like crazy -- just like in a garden nursery.
--Mary Willette, St. Croix Falls, WI
PlanTea prolongs the life of cut flowers?
You better believe it!
My cut flowers lasted twice as long with PlanTea in the water.
--Mary Jane Sutliff, Anchorage, AK
I added PlanTea to my vase of Mother's Day Flowers and they lasted over two weeks!
--E. R., Long Beach, CA
- - - - - - - - - - - - - - - - - - - -
To learn how to keep your cut flowers looking fresh, click here
- - - - - - - - - - - - - - - - - - - -
The gifting of PlanTea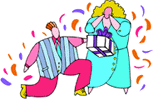 What a great Mothers Day gift! Here's my order for Christmas, too.
--M.M., Sausalito, CA
PlanTea is a great gift for the gardener who you thought had everything!
--S.H., Miami, FL