FEATURE ARTICLE: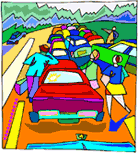 Tom Hanks' "Power of Four" solution

More good stuff:
Who is Marion Owen?

FAQs about PlanTea
Search Marion's articles, tips and recipes

Why grow organic?

News and press releases

Read love letters

How to link to this site

Need a speaker?

How to contact Marion

Visiting Alaska?
Come to Kodiak Island!

Go to home page


Marion's UpBeet Gardener
Newsletter has been
replaced by Marion's blog
which you can find at:
www.marionowen.wordpress.com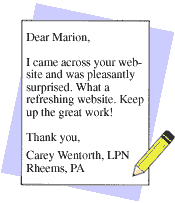 Here are some of my favorite sites, blogs, books, and other destinations I hope you find interesting. If you have a unique 'place' you think I should know about, or if one of these links don't work, please email me. Enjoy!
Organic Gardening and Related Sites

Organic Gardening Tips and Cool Climate Gardening Marion Owen's New Lagniappe Website--Kodiak, Alaska
Cold Climate Gardening Kathy Purdy provides you with the gardening information you need to succeed in USDA Hardiness Zones 4 and colder...
Northern Gardening is a practical resource for all gardeners--especially those in a yes, cold climate! Hosted by Terry Yockey, a Minnesota Master Gardener with over 25 years of 'dirt-under-fingernails' experience working in his own zone 4 northern gardens.
Alaska Humus Alaska Humus is THE ultimate natural "compost". Tested by Soil Foodweb, Inc., online ordering is welcome.

Organic Gardening Down Under From Brisbane, Queensland, Australia comes this delightful, personal, heartfelt site that covers compost, how to grow celery, humor and even fungus photos!

Avant Gardening--Creative Organic Gardening Their "dirt" location is a collection of sustainable organic gardens near El Morro National Monument, in New Mexico; their "web" location is a fabulous collection of upcoming workshops, sustainable agriculture, tips, links to encourage organic gardening to its fullest.

Don't Panic Eat Organic An organic growers [searchable!] home page with an amazing number of helpful links, news, tips, and updates on an international scale.

The O'Mama Report On-line resource for women who want to make the best possible decisions about organic agriculture and organic products. It is a community in which women share their experience, ideas and inspiration. Hosted by the Organic Trade Association.



General Gardening Sites

The Gardening Launch Pad Jim Parra, of Zilker Botanical Gardens in Austin, Texas is the keeper of the site. Thousands of links in dozens of categories.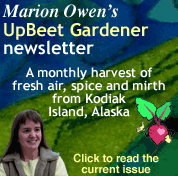 Two Rainy Side Gardeners Named for the rainy side of the Cascade Mountains, this wonderful site specializes in gardening in the maritime Pacific Northwest. Described as "packed with substance for active gardeners, and peppered with a bit of good humor.

GardenWeb One of the first garden sites on the internet, you'll find forums, seed exchanges, articles, and superb plant information.

Renee's Garden High-quality seeds selected by gardeners, for gardeners.

The Gardener's Net Described as a "gardening community," visitors are encouraged to ask questions, suggest improvements or changes, contribute information, ideas, tidbits, humor, etc. They offer a free, monthly Ezine with lots of gardening news, information, tips, and happenings. It is light-hearted, yet informative.




On a Variety of Topics...

For more about some favorite topics of Marion visit her new blog.
Healthy Cooking - Healthy Recipes
Organic Gardening Tips - Cool Climate Gardening
Alaska Nature Photography - Alaska Photography Tips
Kodiak island - Kodiak, Alaska

Sharon Lovejoy - author, illustrator, lecturer Sharon is truly a joy. An award-winning author of many books, including "Roots, Shoots, Buckets & Boots: Gardening Together with Children" and "Hollyhock Days: Garden Adventures for the Young at Heart." For the past 8 years, she has written and illustrated a feature column as a Contributing Editor for Country Living GARDENER magazine. Her work has also appeared in Woman's Day, Family Life, The American Horticulturist, The Herb Companion, Ranger Rick, and People, Places and Plants. Sharon is also the founder of Heart's Ease Herb Shop & Gardens in Cambria, CA. She has lectured for over 20 years throughout the U.S. and is a tremendous inspiration wherever she goes.

Cellar Homebrew Brewing and Winemaking Supplies - Online ordering and printed catalog - 30 years experience - Great customer service.

Stella Marrs greeting cards I first saw her serious and seriously funny post cards in a health food store. You MUST check out her environmental-theme cards.




Valuable tools for your Web site
If you want your web site to rank higher in search engines and directory listings, you need to target the right keywords...

Click here to discover the keywords that will skyrocket your website traffic -- AND to get your FREE top 500 keyword report!




Recommended Reading

Hope's Edge-The Next Diet for a Small Planet, by Frances Moore Lappe and Anna Lappe.
Many of you might remember Frances Moore Lappe's book, "Diet for a Small Planet," which, for me and millions of others, forever changed my attitude about food. Now, Frances has joined up with her daughter to write "Hope's Edge--the Next Diet for a Small Planet." Called "a personal journey of discovery on five continents, they explore the most puzzling questions of our time: Why, as societies, do we create the very inequalities and devastation of nature that, as individuals, we abhor? Are there paths we each can walk that will, in practical ways, heal our lives and help the planet?" Bottom line: The belief that there is a lack of food in this world is a lie. Everyone should read this book. Government officials, politicians, lawyers, doctors, mothers, uncles...you name it. This book will change your life. Then, if you're inspired as much as I was, go to The Small Planet Fund

Expecting Adam: A True Story of Birth, Rebirth, and Everyday Magic by Martha Beck
This is an autobiographical tale of an academically oriented Harvard couple who conceive a baby with Down's syndrome and decide to carry him to term. The presence of the fetus that they each, privately, believe is a familiar being named Adam is very strong. As Martha's terribly difficult pregnancy progresses, odd coincidences and paranormal experiences begin to occur for both Martha and John, though for months they don't share them with each other. Martha's pregnancy and Adam (once born) become the catalyst for tremendous life changes for the Becks. A beautiful and inspiring story.

Chicken Soup for the Gardener's Soul - 101 stories to sow seeds of love, hope and laughter (co-authored by Jack Canfield, Mark Victor Hansen, Cindy Buck, Marion Owen, Carol Sturgulewski, Pat Stone, and Cynthia Brian.
Yep, there's a whole lot of people involved in this inspirational book, including yours truly (Mom would have been proud). It was on the New York Times bestseller list for 3 months when it debuted in Feb. 2001. This is a terrific book to keep on your nightstand or on the living room table. It will make you laugh, cry, giggle, and smile. (To read stories from the book, go to our "tips" page by clicking here).

"Gung Ho!" and "Raving Fans" Two great books by Ken Blanchard and Sheldon Bowles

Love is the Killer App by Tim Sanders, the chief solutions officer at Yahoo!
"Nice guys don't finish last, " Sanders says. "They rule!"
The Success Principles: How to Get from Where Your Are to Where Your Want to Be, by Jack Canfield