How to sign up for my UpBeet Gardener newsletter
Join our community of subscribers in 70 countries!
By Marion Owen, Fearless Weeder for PlanTea, Inc. and
Co-author of Chicken Soup for the Gardener's Soul
FEATURE ARTICLE: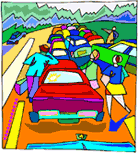 Tom Hanks' "Power of Four" solution

More good stuff:
Who is Marion Owen?

FAQs about PlanTea
Search Marion's articles, tips and recipes

Why grow organic?

News and press releases

Read love letters

How to link to this site

Need a speaker?

How to contact Marion

Visiting Alaska?
Come to Kodiak Island!

Go to home page


Marion's UpBeet Gardener
Newsletter has been
replaced by Marion's blog
which you can find at:
www.marionowen.wordpress.com


Published by Marion Owen, Alaska gardener and
Co-author of Chicken Soup for the Gardener's Soul
Like you, I don't like spam or junk mail, but I appreciate useful, upbeet (upbeat!) information that focuses on the half-full, not the half-empty, side of life. So I publish the Up-Beet Gardener e-newsletter from my home office in Kodiak, Alaska. It's a collection of organic gardening tips, recipes, photography how-to's and more. To make it easy on you and your computer, you have a choice of receiving the html issue or the text-only issue. And out of respect for your privacy, I do not share this mailing list with anyone. Period.
The current issue is always posted on my site. If you'd like to receive the Up-Beet Gardener, simply send me an email to: mygarden@alaska.net.
Cheers and blessings to you!