FEATURE ARTICLE: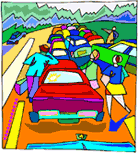 Tom Hanks' "Power of Four" solution

More good stuff:
Who is Marion Owen?

FAQs about PlanTea
Search Marion's articles, tips and recipes

Why grow organic?

News and press releases

Read love letters

How to link to this site

Need a speaker?

How to contact Marion

Visiting Alaska?
Come to Kodiak Island!

Go to home page


Marion's UpBeet Gardener
Newsletter has been
replaced by Marion's blog
which you can find at:
www.marionowen.wordpress.com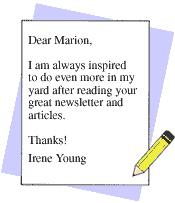 Uh, oh. The Environmental Protection Agency (EPA) says that plastic milk jugs deposited in landfills will never degrade. Yet each year, millions of plastic milk jugs are thrown away. In fact, milk jugs (and water bottles) represent one of the largest volume of plastic that end up in landfills and make up the corner-stone of almost all plastic recycling efforts. Fortunately, many people accept the challenge to re-use household items.
Reusing plastic milk jugs is no exception. Along with the plastic milk jug cloche (below) which protects seedlings and bedding plants, here are 34 more uses for your home, garden, yard, garage and boat. And, if you know of another way to use them, don't be shy! Email me your idea.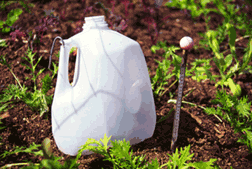 Plastic milk jugs, minus their bottoms, make excellent cloches by protecting tender plants against frost, heavy rain, scorching sun and so on. To keep it from blowing away, poke a hole at the top of the handle and thread a piece of heavy wire so it reaches down into the soil. Photo by Marion Owen

In the yard and garden
Bird Feeder
Cut a hole in two or three sides of the jug. The holes should be 2 or 4 inches in diameter, depending on the type of birds you want to attract. For perches, make smaller holes below the feeding holes. Push wooden dowel rods through the holes so they poke through the opposite side. Fill the feeder with seed and hang it in a nearby tree. You may want to poke a few small holes in the bottom for rainwater drainage.




Easier bird feeder
Cut a strip out of the side opposite the handle. Fill with birdseed and hang in a tree or set on a stump or protected spot. Protect young seedlings Place a plastic milk jug, minus its bottom, over a seedling. To keep the cloche (sounds like gauche) cover in place, poke a hole on the top of the handle and run a 14 to 16-inch piece of coat hanger or wire through the hole and down into the soil.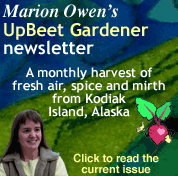 Tea for two?
Put diluted PlanTea concentrate, liquid fish fertilizer or compost tea in a plastic milk jug. Use the fortified water within a few days, giving the containers a shake each day. Water seedlings, annuals, perennials and shrubs.

Going to a plant sale?
Take a few 4-inch tall bottoms from plastic milk cartons with you to haul away plants.
Seed starting container
Cut 3 inches off the bottom of a milk jug. Poke a few small holes in the bottom for drainage. Fill with seed-starting mix or potting soil and sow with seeds. For complete, easy to follow seed-starting tips, see my Seeding is Believing article.
Plant propagator: Start new plants successfully!
From Lynn Proctor, of Petersburg, Florida: I use both 1/2 and 1 gallon cartons as planters for propagation with cuttings. Leaving the handle intact, cut down through the threaded top beside the handle to just below the curve, go all the way around to where you are on the other side of the handle, cut up to the top of the handle, completely removing the screw top and leaving the handle intact. Poke a few small holes in the bottom.
Fill the container 2/3 to full with planting medium, depending on your use. This provides a top hole big enough to put in some cuttings, small plants or seeds. Since the hole is relatively small, the planter holds its moisture well. It is protected somewhat from insects, and the carton can be cut off for transplanting. It is easy to carry and move around. You can see root growth progress through the plastic. If you have some green algae growth on the inside of the plastic by the soil, it won't hurt anything. You can paint the carton if you want, or put contact paper on it to the soil level. I just use it the way it is and have had great success.

Mark it or lose it
Cut the sides into long strips or triangles and mark with a waterproof "Sharpie" pen for plant markers.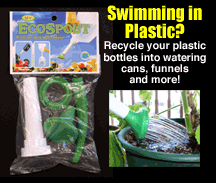 Make a watering can or sprinkler
Turn your plastic milk jugs into a sprinkler, funnel or watering can with a few, simple attachments onto the threaded opening. I discovered these great gadgets about 10 years ago and now offer them through this site. They are a great problem solver. You can find them and buy them on my online store.

Soil scoop
Make a scoop by cutting the bottom (and part of the handle side) off. Replace the screw-top and use it to scoop up dry potting soil, vermiculite, grass seed and so on.

Watering hole
Cut the bottoms off 2 or 3 inches from the base and use it for toad and bird watering holes. Did I already say it also makes a great watering bowl for your dog when going on a hike or trip? Speaking of water...
Swimming "floaters" for kids
This one was sent in by Ruth: When my kids were young we didn't have a lot of money. When we went to the pool swimming we used milk jugs for floaters. Tie a sting to each handle. You may use one or two on each side. Place them near under arm and tie string around the child. Now he can float. May want to super glue the lids on. Have a blessed day, Ruth
You can also have your child simply hold a plastic jug in each hand (lids are screwed on to make an airtight seal, right?). This is a great way for them to practice their kicking and swimming. Remember: Always keep an eye on your children in the water.
Slug watering hole
Cut the bottoms off 2 or 3 inches from the base. Sink the base into the soil so the top rim is level with the soil. Fill (bait) with beer (this Bud's for you) or your own sugar-water-yeast solution (a pinch of yeast is all you need).

Make a Wall-o-Water
Fill jugs with water and arrange them in a ring around plants. Cover the ring at night to preserve heat absorbed during the day. When the danger of frost and cold has passed, use the warmed water to water your plants. For warmer water, paint the containers black before filling them. This is a good way to regulate heat in cold frames and greenhouses.

Weighty water
Use water-filled jugs as weights to secure floating row covers, plastic, tarps, netting or frost covers over beds.
Around the house
Potted plant bases
Cut the bottoms off and use them as plant saucers.

Hanging clothes on the line?
Here's a handy way to hold the clothespins. Cut a hole in a plastic milk jug in the side opposite the handle. Then cut through the handle about a half-inch from the bottom of the handle to make a "hook" for hanging it on the clothes line. Fill the jug with pins and use the handle to hang it on the line.

Light your way
Make luminaries by cutting off the top of a milk jug, filling the bottom with 2 or 3 inches of sand, then placing a votive candle in the sand. Line a walkway or garden path with the lights.

Organize your picnics
Cut the tops off several plastic milk jugs and use the bases to keep fruit, cheese, sandwiches, napkins, and spreads separate--and dry--in your cooler or picnic basket.




Organize your fridge
Cut the tops off several plastic milk jugs and use the bases to conveniently store grapes, kiwis, pear tomatoes, cheese, lunch meats and other small items in the fridge. Make shorter containers for the storage drawers and trays.

Multi-purpose funnel
Cut the bottom from a plastic milk jug and use as a funnel for liquids, powdered dry goods, flour and more. It couldn't be easier.

Jelly-making helper
Make a funnel (as above) and line it with a jelly bag or damp piece of muslim. Secure the jelly bag at the top with clips or clothespins if necessary. Pour fruit juice into the funnel and let it drip.

Organize your life!
From a 1/2 to 1-gallon container, cut a hole out of the top corner opposite the handle. Use the easy-access container to sort and store everything from golf balls and dog biscuits; to nails and rubber bands. This same design makes a great container for cleaning paint brushes or as a berry picker (see below).
Organize your car and mini-van
Sent by a reader: Again, from a 1/2 to 1-gallon container, cut a hole out of the top corner opposite the handle. Use the container to as a small garbage can to collect bits of trash that otherwise find their way under seats and on the floor of your car. Got kids? Well, then you can appreciate this one!
Keep your tire chairs clean and ready for use
Hi Marion, I stumbled onto your site and read the milk carton uses with interest. I cut an opening opposite the handle and store tire chains, to keep in the car trunk in the winter. They get wet and rusty and this is a perfect solution. -- From Gaye, in California

No-spill measuring
Store uncooked rice and other small grains, nuts, popcorn and seeds in a 1/2 or 1-gallon milk carton and it will be easier to measure out. Be sure to thoroughly clean the carton first.

Storage container
Tired of flimsy plastic bags? Use a 1-2 or 1-gallon plastic milk jug for storing everything from coffee beans, sugar, lentils, split peas and jelly beans.

Poor man's blender
Add yogurt, soy milk, fruit juice, nutritional powders, crushed berries or jam to a 1/2 to 1-gallon plastic milk. Replace the lid and shake like crazy. Store extra in the fridge.

Clean sweep
A gallon milk jug can also be turned into a dustpan. Set the jug, handle side up, on a table and cut the top off at an angle, leaving the bottom as a flat dustpan.

Where to put the toilet bowl brush?
Cut a hole out from the top corner opposite the handle. Voila, problem solved.

All-purpose scoop
Here's a great way to scoop up kitty litter (new or used) de-icer, etc. Make a scoop by cutting the bottom (and part of the handle side) off. Replace the screw-top and scoop away.
Toys, berry-picking, giant igloos...
Berry picker
Cut a hole out of the top corner opposite the handle to use for a berry picker. Slip your belt through the handle to free up your hands for picking.
Giant igloos
Collect enough milk jugs and you can make a giant igloo--a favorite project for schools, churches and day care centers. The main trick is connecting them together. Here's a suggestion from Terri Kaszynski, a Brownie Troup leader in Oconto, Wisconsin: We used 5 packages of glue stick and hot-glued them together. Of course this took adult supervision but it worked like a charm. We anchored them to a large piece of (round) cardboard. We did have to cheat little with 1/2 gallon jugs between some of the gallon ones. It's a great craft to do late in the fall of the year and have it standing by for when it does actually snow!
Let's play ball!
Here's one to use at school for field day and just for play, sent in by M. Lundin of Orlando, Florida. You can use 1/2 gallon or gallon jugs work; even large detergent jugs, etc. INSTRUCTIONS: Cut off the bottom of the jug along the line (that's about 1.5 inches around the bottom of most milk jugs.) Decorate the jug with peel n' stick stickers or markers, or whatever! Using old tennis balls, you now have a ball catcher game for yard or beach. The larger jugs make it easier for younger kids to catch the ball. Smaller jugs are more challenging!

Milk jug Jack-O-Lantern
This Jack-O-Lantern is easy for kids to make, plus, it's weather proof! Draw Jack-O-Lantern facial features onto the milk jug. Cut out the eyes, nose and mouth shapes. Paint the jug with orange acrylic paint. It might take a couple coats for a nice thick finish. Once the paint has dried, draw details with a black, permanent marker or black acrylic paint. For the inner glow, insert a small flashlight to the inside of the jug lid or in a hole cut below the handle and tape it into place.

Gone fishin'?
Reader David Scammon sent us this tip:
"Empty milk jugs with the lid attached make great floaters to drop in the lake for fishing. Tie fishing line, with hook and bait, to the jug handle, toss in the lake and check later. This allowing fishing at all levels of the lake." (Email your tip!)

A penny saved...
Make a simple piggy bank by cutting a slit near the top of a 1/2 or 1-gallon (if you're really ambitious) plastic milk jug. Glue or tape the lid closed, if desired. Paint the jug or attach a bow on the handle for a personalized touch.

Bail that boat!
Make a bailer for your boat by cutting the bottom (and part of the handle side) off.

Wait, there's more!
Plastic milk jugs can also be made into Easter baskets, used for making wine, or stacked into an igloo (minus the chill!).
Hopefully I've inspired you to use your imagination to create new ways to use old stuff. Remember, And hey, if you know of another way to use them, don't by shy! Email me your thoughts so I can add them to the list.
Happy gardening and recycling--everywhere!
Healthy Recipes - Healthy Cooking
Organic Gardening Tips - Cool Climate Gardening
Alaska Nature Photography - Alaska Photography Tips
Kodiak Island - Kodiak, Alaska