FEATURE ARTICLE: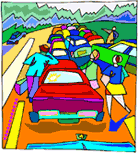 Tom Hanks' "Power of Four" solution

More good stuff:
Who is Marion Owen?

FAQs about PlanTea
Search Marion's articles, tips and recipes

Why grow organic?

News and press releases

Read love letters

How to link to this site

Need a speaker?

How to contact Marion

Visiting Alaska?
Come to Kodiak Island!

Go to home page


Marion's UpBeet Gardener
Newsletter has been
replaced by Marion's blog
which you can find at:
www.marionowen.wordpress.com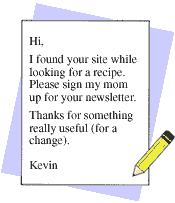 Based on the number of emails and letters I receive, rhubarb is loved by lots of folks. If you're part of the Sweet 'n Sour Club, you'll love these recipes, including one for Rhubarb Bars. How about a recipe for a dye made from rhubarb leaves? For more recipes and to learn how to grow rhubarb, visit my article Rhubarb: America's Favorite Pie Plant. I've also listed some cookbooks at the end of this article.

Rhubarb Bars
By Mary Peterson, Marinette, WI
1/2 cup shortening
1tsp. baking powder
1 egg, beaten
3 tablespoons milk
1 1/4 cup flour
Mix above ingredients together. Dough will be stiff. Pat in a 9 x 13-inch pan, bringing dough half way on the sides of pan. Cover with 4 cups of rhubarb. Sprinkle with two, 3-oz packages of raspberry or strawberry Jell-O. Preheat oven to 350 degrees.
For the topping, combine:
1 1/4 cup flour
1 cup sugar
1/4 cup melted butter or margarine
Sprinkle topping over Jell-O. Bake for 40-45 minutes. Let cool before serving. It firms up during cooling. Enjoy! (Recipe Mary's sister, Cindy Kakuk of Menominee, MI.)

Dear Marion,

I am finding that rhubarb is a marvelous stretcher for jelly and jam. This is my rhubarb-salmonberry jelly recipe, good as a sweet jelly, or in place of cranberry sauce for chicken and meat.

Rhubarb-Salmonberry Jelly
From the kitchen of Donna Elizabeth Jones

2 cups salmonberry (or other berry) juice
2 cups rhubarb mash
4 cups sugar
1 T low-sugar pectin
Splash of lemon juice and/or calcium water if your pectin calls for it.

Wash and cut up rhubarb, place in a pressure cooker with 1/4 cup water and
bring up to 15 pounds pressure. Allow to come down from pressure without
cooling pot in water. Use this rhubarb mash in equal measures with
salmonberry juice (prepared the same way, and then strained through a
sieve). Delicious!

Natural Dye from Rhubarb Leaves

Marion,

Thought you might be interested in knowing that rhubarb leaves make a wonderful natural dye. On its own it will make a lovely sage green, but if baking soda is added to the dye pot, the color becomes a wonderful shade of yellow/gold. This is something I learned on my last trip to Ireland while researching and experimenting with traditional natural dyes. Needless to say, there won't be any more rhubarb leaves going in to my compost pile!
(Sent in by Elizabeth O'Donnell, Alaska)


- - - - - - - - - - - - - - - - - - - -
RHUBARB NUTRITION FACTS: One cup of diced rhubarb contains Vitamin C (10 mg), Folate (8.5 mcg), Calcium (105 mg), Magnesium (14.5 mg), Phosphorus (17 mg), Potassium (351 mg).
- - - - - - - - - - - - - - - - - - - -

Dear Marion,

I can't wait to try the Ginger Rhubarb Jam. Here's a couple of recipes that I enjoy, one is a variation of the pudding cake you mentioned. (Both are featured at Rhubarb: America's Favorite Pie Plant).

Rhubarb Upside Down Cake
From the kitchen of Diana Holt, Kodiak, Alaska

5 cups chopped rhubarb (fresh is best, but frozen is OK)
1 cup sugar
1 large pkg strawberry Jell-O
3 cups miniature marshmallows
1 yellow or white cake mix
Spray 13" x 9" cake pan with cooking spray. Spread bottom of pan with rhubarb. Sprinkle rhubarb with sugar and Jell-O, and cover with marshmellows. Prepare cake mix as per package instructions and pour over top of layers. Bake at 350 degrees for 55 minutes. Allow to cool about 10 minutes. Scrape sides to loosen and turn upside down on a tray. This is delicious warm or cold, served with Cool Whip or whipped cream! This has been a favorite of ours for years!

Rhubarb Custard Bars
From the kitchen of Diana Holt, Kodiak, Alaska
These bars can be made with fresh or frozen, unthawed rhubarb.

Crust:
1 1/2 cups flour
1/2 cup sugar
1/8 teaspoon salt
9 tablespoons butter
Filling:
1/3 cup flour
1 1/2 cups sugar
1 1/2 cups milk
3 large eggs
5 cups sliced fresh or frozen (unthawed) rhubarb
Topping:
1/2 cup sugar
8 oz cream cheese
1/2 teaspoon vanilla
1 cup frozen Cool Whip
Preheat oven to 350 degrees. For crust, combine flour, sugar, salt. Cut butter into flour mixture. Spray 13 x 9 baking pan and press mixture into the pan with fingers. Bake at 350 for 15 minutes, until crust is golden brown.
For filling, mix flour, sugar, milk and eggs until blended; stir in rhubarb. Pour mixture into crust and bake at 350 degrees for 40 - 50 minutes until set. Cool to room temperature.
For topping: Blend sugar, softened cheese and vanilla in a bowl. Fold in Cool Whip and spread evenly over baked custard. Cover and chill at least one hour. Garnish with mint sprigs if desired.

Rhubarb Coconut Cookies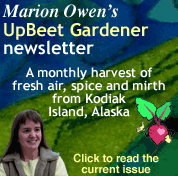 From the kitchen of Mariette Coons

1/2 cup shortening
1-1/3 cups brown sugar
1 egg
2 cups flour
1/2 teaspoon soda
1 teaspoon cinamon
1/2 teaspoon ground cloves
1/2 teaspoon ground nutmet
1/2 teaspoon salt
1/4 cup milk
1 cup fresh, chopped rhubarb
1 pecans or walnuts, chopped
1 cup raisins
1/2 cup coconut
Cream shortning and sugar together. Add egg and beat well. combine dry ingredients and add to creamed misture alternatively with milk. Mix well. Stir in rhubarb, raisins and coconut. Drop by tablespoons onto greased cookie sheets. Bake at 375 degrees for 12 to 15 minutes or until golden brown. Makes 3 dozen cookies.

Rhubarb Bread
From the kitchen of Marietta Coons

4 cups flour
2 teaspoons baking soda
1 teaspoon salt
4 eggs, beaten
2 cups sugar
1/2 cup applesauce
1/2 cup oil
4 tablespoons sour cream
2 teaspoons vanilla
2 cups chopped fresh rhubarb
1 cup chopped nuts
Topping:
4 tablespoons butter
1/2 cup sugar
1 tablespoon cinnamon
Sift together flour, soda and salt. Add sugar, eggs, oil, applesauce and sour cream. Fold in nuts and rhubarb. Pour into 2 greased bread pans. Sprinkle with topping. Bake at 350 degrees for 60 minutes. Makes 2 loaves.

If you have a favorite recipe or use for rhubarb, please email 'em in!
For cookbooks featuring rhubarb, you'll want to get Cooking Alaskan (ISBN 0-88240-237-4). It features unique rhubarb recipes like Strawberry Rhubarb Bars, Rhubarb Fruit Leather and Raw Rhubarb and Berry Relish. It's one of my favorite cookbooks. Then there's Great Rhubarb Recipes (Bulletin A-123) by Nancy C. Ralston--it may take some searching, but give it a try. Last but not least, Kedgeree and Rhubarb Crumble: Recipes from a Cosmopolitan Childhood by Jehan S. Rajab. All of these books are available through Amazon.com.